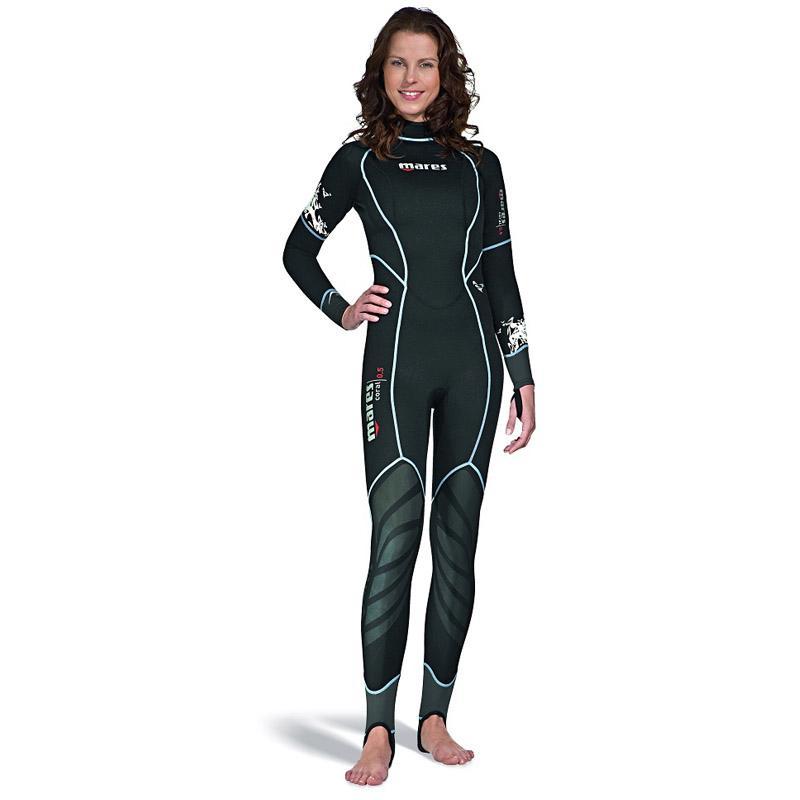 MARES_CORAL - SHE DIVE
MODEL : MARES CORAL - SHE DIVES
CODE : 412524
DESCRIPTION
- A comfortable second skin for tropical dives
- Easy donning and doffing
- Can also be worn as an under suit
- Rubber knee pads
- Metalite fabric inside with heat retaining effect
This neck closure system allows for the easy customization of neck fittings. Beginning this year, Mares provides a complete new style of velcro tag molded in rubber, to minimize snagging of the plush or neoprene. Back and front zips with skin-on-skin zipper seals for a superior water barrier.
We want you to be comfortable! Whether you are diving, snorkeling or engaging in other water sport activities in the tropics - with the Coral, Mares offers athletically inclined ladies who don-t want to loose the certain -je ne sais quoi- a second skin...
The neoprene of the overall Coral SheDives has a diameter of just 0.5 mm. More than enough for many purposes on vacation. It fits like a second skin - cozy, soft, and comfortable. Your swimming motions are completely unrestricted because the cut was specifically developed for aquatic athletes.
Coral SheDives is the lightest neoprene suit within the Mares line. Thanks to its low weight and extremely small pack size it is the perfect suit for frequent flyers. For tropical water temperatures, the Coral is the preferred choice that will serve you well not only when diving but when engaging in any water sport activities imaginable.
A plus in respect to insulation is its heat reflecting Metalite lining. Less body heat is lost because most of the heat is reflected at the inner coating.The Coral is not only suited for the tropics, but can also be used in local bodies of water: Just wear this -lightweight- under your wetsuit.
You-ll be surprised...! Mares has added foot and thumb loops for this purpose, making the Coral the ideal undersuit. The custom collar closure system at the neck is also very handy because it allows for a customized adjustment of the neck seal. The brand-new Velcro flap is tightly embedded in the rubber and as a result of this special construction only sticks where it is supposed to stick: at the collar!
What else is there to discover- Knee pads protect this gem of a suit and ensure unrestricted mobility. A flat stitch seam guarantees very high wearing comfort without chafing the skin. And the design- Pure eye candy
FACTS
Code:412524
Thickness:0.5mm
Water temperature:Warm water
TECHNOLOGIES
For Warm Water
Neoprene thickness 3mm or less.
SIZES
1/ 2 / 3 / 4 / 5
---